After surpassing 100% in 2020, the index has halved on weak demand for the infantile paralysis vaccine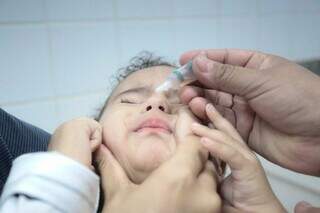 In 2020, Campo Grande was the only capital in the country that exceeded 100% of the target audience vaccinated in the fight against various types of diseases, in the public network. In 2021, vaccination coverage fell to 67.6% and this year it is only 56.9% so far, according to a survey published by the CLP (Centre for Public Leadership) in partnership with Gove Digital.
The CLP is a non-partisan organization to engage society and train public leaders to tackle Brazil's most pressing issues.
Campo Grande is the city with the biggest drop in the index in recent years. From 2020 to this date, coverage is 46% lower. Then there is Boa Vista, with 35.4% less, João Pessoa with a lower rate of 35.2% and Salvador with a reduction of 32.7%.

Infantile paralysis – At the beginning of this month, Sesau (Municipal Health Directorate) ended the vaccination campaign against poliomyelitis (infantile paralysis) with only 21% of the desired coverage among the 57 thousand children of the age group, that is, only 12,000 children received the vaccinator.
The target set by the Ministry of Health is for at least 95% of the population to be vaccinated. Polio vaccination coverage in Campo Grande is the lowest of all municipalities in Mato Grosso do Sul, according to the SES (State Department of Health).
The vaccine against poliomyelitis, as well as those against covid-19 and influenza are still available at the UBS (Basic Health Units).
Vaccination against poliomyelitis protects children from infantile paralysis, a disease eradicated in the country for more than 30 years. The need for a new polio vaccination arose as the virus returned to circulation in other countries, such as the United States, which no longer had cases in several regions. In July, the country confirmed the diagnosis in an unvaccinated adult.
The CLP survey identified a drop from 71% to 58% in the vaccination coverage of the largest Brazilian municipalities from 2020 to 2022, and that even among the capitals, only three have improved vaccination coverage (Aracaju-SE, Goiânia-GO and Florianópolis-SC), but none of them achieved coverage above 75%.